Donation Page
Lamrim Kadampa Buddhist Center is a 501(c)(3) non-profit organization
Make a tax-deductible donation:
No PayPal Account Needed
Use your credit card or bank account (where available).
DONATE

or by mailing a check to:
Lamrim Kadampa Buddhist Center
502 W. 3rd Street Apt #1
Davenport, IA 52801
Our Funding:
Lamirm Kadampa Buddhist Center exists solely through the kindness of its benefactors and those who make class donations. We receive no financial support from outside sources. Lamrim KBC is a registered 501(c)(3) public charity. We are run by volunteers who organize, teach and give their time, energy and resources to help make Lamrim KBC open and accessible to as many people as possible, Buddhist and non-Buddhist.
Our Mission:
The purpose of Lamrim KBC is to help people learn how to find true and lasting happiness and overcome their daily problems through special methods taught by Buddha. We offer a wide variety of classes that range from basic breathing mediation to help calm to the mind, all the way up to the most advanced spiritual practices to completely transform our mind and our world.
We also strive to provide a real sanctuary to those searching for inner peace and positivity in our troubled world.
Our Activities:
In addition to helping to fund our regularly scheduled classes and events, your donation also helps us to fulfill requests and engage in many activities to benefit the wider public.
These include:
- Providing special classes for colleges both at Lamrim Center and at the educational institutions
- Present Free Public talks
- Provide meditation training for staff at area businesses and non-profit organizations
- Outreach at Public Schools
-Fulfilling requests for meditation classes at distant locations for those who cannot commute to us.
- Outreach at senior living facilities
- Providing information to other religious groups to help promote inter-faith harmony and understanding.
- Offer prayer services and support for the families of the recently deceased.
- Offer classes at a discounted rate for seniors, students and unemployed.
- Provide outreach and support to those in local prison system.
- Maintain a Center Library
- Set-up exhibits about meditation and/or Buddhism at area business, non-profit and community health and wellness events for both adults and children.
Your donation—however large or small—is an especially powerful act of giving. By doing this, we can bring greater happiness and peace of mind to the many people who live in the area.
Thank you for your donation!
"We are trying to help the people of this world by giving them special methods to solve their daily human problems and to achieve the permanent happiness of liberation. In itself, the flourishing of Buddhism is not important unless it benefits others this is the main purpose of Buddhism"
- Geshe Kelsang Gyatso, the founder and spiritual guide of the New Kadampa Tradition.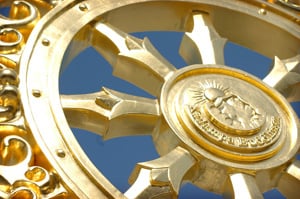 Lamrim Kadampa Buddhist Center is a 501(c)(3) non-profit organization
Make a tax-deductible donation:
No PayPal Account Needed
Use your credit card or bank account (where available).
DONATE

or by mailing a check to:
Lamrim Kadampa Buddhist Center
502 W. 3rd Street Apt #1
Davenport, IA 52801